COURSE RESPONSE RATES
Click on the project name to view the course-level response rates. Included at the course-level is Instructor Name and Course information.

RESPONDENT/NON-RESPONDENT FILES
By clicking the View icon in the far right column, you can download the Respondents and/or the Non-Respondents report, which is an Excel file that displays which respondents have and have not submitted surveys for the course(s).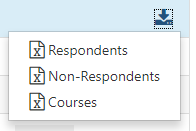 NOTE
Respondent / Non-Respondent Files will not be available to download if there are less than two (2) respondents for a course. This is designed to protect the anonymity of respondents in the system. Your EvaluationKIT Administrator can increase this threshold.